About Kwiziq
About Scoring, Levels and Progress
About Testing
About Features for Teachers
About My Account
About Spanish
Other Questions
Pricing
About Kwiziq
What is Kwiziq?
Kwiziq is a powerful A.I. software "Language Coach" that intelligently helps you improve your Spanish by finding out exactly what you know, don't know and have mis-learned (or mistakenly assumed to be true). It challenges you with personalized kwizzes that build up a picture of your confidence across the language. As you work your way through the system, Kwizbot suggests a variety of content via your personalized Studylist to make sure that you're always working on exactly what you need the most help with.
Ready to try it out for yourself? Take a free Spanish level test with us and let Kwiziq chart out your learning path.
In addition to multiple choice and fill-in-the-blank kwizzes, Kwiziq offers
Gapfill exercises
Original articles in our bilingual reader
Audio/video content for listening comprehension
How does Kwiziq help me learn?
Kwiziq breaks the Spanish language down into its smallest components, a bit like language "atoms": vocabulary and grammatical rules. Our database has thousands of questions specially designed to determine how well you know all of these things, and by kwizzing you on them, it can find out what you know - just as a human tutor would simply by talking to you.
To start your journey and find out where you stand, take our FREE Spanish level test today.
Kwiziq first builds up a rough picture of your approximate level, and then starts to get into the details, kwizzing you in relevant areas to help you practise recall, mobilise what you know and reinforce your memory. It will help you identify your own mistakes so that you don't accidentally practise writing and saying the wrong things, and it'll show you examples with video and audio of the correct forms so you can see and hear them.
Kwiziq is like your very own personal tutor, available all the time. And it's even better if you already have a human teacher or tutor because it can help them teach you Spanish even faster - see Features for Teachers.
You don't need to know or worry about the details:
Kwizbot will work out exactly what you need to practise next (and organize it nicely into a Studyplan on your Dashboard), and will help you perfect your Spanish.
It will also enhance your recall with detailed lessons and questions, teaching by example with audio and video.
Kwiziq keeps a list of the 10 most relevant lessons for you to read in your Studyplan, and updates it every time you take a kwiz.
Kwiziq will show your progress with a motivating improvement timeline as well as graphs breaking down your progress, in order to help you to identify your own strengths and weaknesses in areas like:
Adjectives & Adverbs
Idioms
Negative Words & Constructions
Nouns & Articles
Numbers, Time & Date
Prepositions
Pronouns
Questions & Interrogatives
Verbs Tenses & Conjugations
You can see a list of all of these lessons by area and level in the Library (found in the top menu on your Dashboard).
If Kwiziq discovers you're an intermediate or advanced student, it will help you to go back and fill any gaps in previous levels. So don't worry if you didn't quite learn all the verb conjugations in El Pretérito Imperfecto or El Pretérito Indefinido before you moved on to El Futuro and El Subjuntivo, Kwiziq will ensure you master everything.
Can I save or bookmark lessons?
Absolutely! Here's how to save lessons to and use the
Notebook
.
Can I choose specific lessons to study?
Sure! Just use the search box in the upper-right corner of any page or visit our grammar index. You can then add the lesson to your Notebook along with any other lessons you want to study again.
With a Premium account, you can have multiple Notebooks and create unique study plans based on whatever themes you like!
How can I type accents?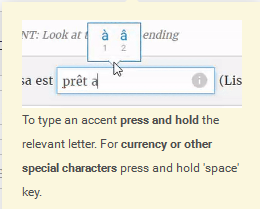 Desktop and laptop users can easily type accents with our custom-built accent picker: just press and hold the letter that you want to add an accent to, or the spacebar to type currency or other symbols.
For accents on capital letters, you have two options:
1. Enable caps lock, then press and hold the desired letter to see the list of accents.
2. Press and hold shift and the letter to see the list. Then, while continuing to hold shift, release the letter and choose the accent.
The accent picker won't appear on mobile devices since they usually have this functionality built in: just long press a key to see a list of accents and special characters. Slide your finger to the desired character and then release to insert it. If no menu pops up, you can install a free keyboard app like SwiftKey.
What are Gift Vouchers?
One- and two-year certificates that you can purchase for your favorite Spanish lover -
learn more
.
What is Kwizbot?
Kwizbot is the friendly face of Kwiziq's super-intelligent A.I. Whenever you practise your Spanish on any Kwiziq-powered website, he works on building up a picture of your Spanish in his artificial brain. He then recommends lessons for you, guiding you through your personalized - or rather, robotized - study program, continually working out what you need to practise. He even sends you reminder emails with selected examples in Spanish based on what he knows about your Spanish skills.
Kwizbot is pretty smart, and he's getting smarter all the time. You can feel his presence everywhere on the site, but what do you really know about him? Read our exclusive interview!
Is Kwiziq available for any other languages?
Yes! We currently have French and Spanish, and you can also
vote for the next language
we should work on.
What kind of Spanish will I learn?
You can choose to learn Spanish from Spain or Spanish with a Latin American focus based on Mexican grammar. Probably the biggest difference between the two types of Spanish on offer is that European Spanish includes testing on vosotros while Latin American Spanish does not: learn more. You can read more about the differences between European Spanish and Latin American Spanish here:
Read more about our Spanish offer here: About Spanish
How is Kwiziq Spanish different from other online learning platforms?
Kwiziq Spanish is designed for post-beginners. It can often be a struggle to find material suited to your level once you get beyond the basics, but with its detailed grammar tips and varied content from expert teachers, Kwiziq Spanish provides the perfect platform to get more fluent.
About Scoring, Levels and Progress
I get high scores on tests, so why is my Kwiziq score so low?
Kwiziq scores are not the same as test scores. You should consider a Kwiziq score above 75% very good (this is hard to achieve), but remember that our system is not an exam that you pass: Kwiziq is designed to help you increase your confidence in the language. You may need to answer questions correctly many times to prove to Kwizbot that you know your onions!
How does Kwiziq scoring work?
Your Kwiziq score is a measure of how confident the system is that you know something. We use a special algorithm to estimate confidence with scores ranging from -100% to 100%. See the full explanation of
how the Kwiziq Scoring system works
.
I got 10/10 on a kwiz, why did my level score go down?
We are always adding new lessons and questions to the system. Your scores are calculated "out of" the whole level, so when it gets larger your overall score reduces. Since historic scores were calculated in the past, they will stay higher.
Why can't I obtain 100%?
Feel like a certain lesson or level is stuck below 100%? Consider these tips.
I. Premium users
If you're a Premium user, you can zoom in on your Brainmap to see if there is an area that hasn't turned dark green yet. Double-click on that area to isolate the lesson until you are prompted to either "Study lesson now" or "Add to Notebook." Clicking on the latter will enable you to test against this one lesson to increase your score.
II. Free users
If you've been taking only the 1-2 question micro-kwizzes at the ends of lessons, this could be why your score seems "stuck." Try taking tests against your Recommended list (Studyplan) and Notebook. Or if you see that there's only one lesson in your Recommended list with less than 100%, add it to your Notebook and take repeated tests against it.
Need more help?
If the above doesn't improve your score, please contact us and we'll investigate further.
When will I go up a level?
Once you've earned a silver shield (75%) at your current level. If you can't wait, you can test in the "Choose your adventure" section and your Studyplan will update accordingly.
What are Kwiziq achievements?
A fun way to track your progress and stay motivated -
learn more
.
How can I read my Progress Report?
We include Progress Reports in some emails, here's how to read them. For example:

Level indicates the CEFR level, which is tied to the official Spanish proficiency tests DELE.
Kwiziq Score is our unique grading system, which requires a score of at least 75% to pass each level. Any negative score is due to incorrect answers. You lose points for wrong answers, whereas if you skip the question, you just get a null score. So it's always better to skip questions that you're not sure about, rather than guessing. Note that it is possible to pass, say, B2 but not A1 - this means that you have some knowledge gaps in the latter and/or you haven't yet proven your familiarity with those topics to our A.I. KwizBot. You can rectify this by going to your Dashboard and taking that level test under Choose your own adventure.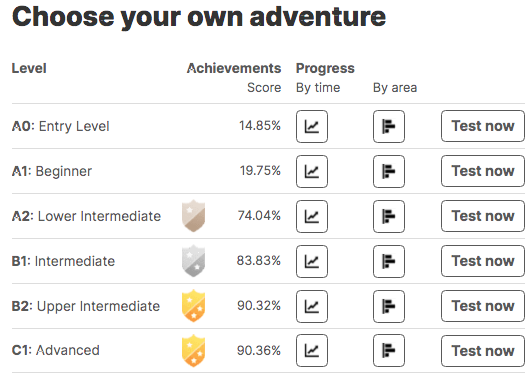 The green dot indicates that this user has achieved reasonable confidence (a Kwiziq Score of at least 50%) at level B2, while the Progress Report tells us that he or she hasn't yet reached the 75% pass threshold. The red dot shows poor understanding of C1 topics, while the yellow dots indicate that more testing needs to be done at those levels.
Topic Coverage refers to the percentage of our topics you've been kwizzed on within each level - though you may have only answered some of the questions within that topic. You should aim for 100% coverage in each level.
Question Coverage is the percentage of questions within the level that you've answered correctly. It takes longer to achieve 100% question coverage than 100% topic coverage, naturally. This figure will go beyond 100% when you answer questions more than once over time across multiple rounds of practice. So this user has touched on every B2-level topic, but has only answered two-thirds of B2 questions. Some of our super kwizzers are on 800% question coverage (i.e., eight rounds through the whole system of questions which can lead to excellent Kwiziq Spanish scores).
What are Brainmaps?
Interactive maps of your grammar knowledge -
learn more
.
How long does it take to improve?
Every language student learns differently. But because our system uses AI to work out what you already know and what you don't, you only focus on what you need to practise. A much more efficient way to learn - in fact some of our students say they learn 10 times faster than with traditional ways.
Will I have enough time to get the most out of it?
We understand that life gets busy. The Kwiziq Spanish method is based on 'little and often' as research has shown that short, regular testing improves learning and helps recall.
In fact, languages experts recommend just 15 minutes a day. So if you can put a little time aside each day, you'll soon start to progress in leaps and bounds. You may even find it's fun!
About Testing
What is CEFR?
CEFR, the Common European Framework of Reference for Languages, is a standard way of describing language proficiency -
learn more
.
Can I retake the CEFR level test?
The short answer is no. We are working on ways to reassess your level, but retaking our CEFR entrance level test is not a good idea because the test questions are fixed. It's a specially designed set of questions that aims to test your level with as few questions as possible. There are only between 8 and 18 questions asked per level and as such it can only ever be a rough indicator of your linguistic skill.
We will eventually offer more thorough level re-assessments, but in the meantime, we encourage you to take the level tests on your Dashboard. Every time you click a level test, Kwizbot will design a short (usually 10-question) test for you to help you improve your skills at that level. By taking as many of these as you can, you will rapidly perfect your skills at the chosen level.
What about listening practice?
In addition to audio found throughout lessons and kwiz results pages, we publish
audio articles and dictados
every week.
Can Kwiziq help me prepare for the DELE, SIELE, CELU or the AP Spanish Exam?
Yes! Regular testing is an excellent way to find gaps in your knowledge and improve your Spanish in preparation for any test, so just head over to your Dashboard and get kwizzing!
We also have a series of articles offering detailed info and tips about the different Spanish proficiency exams:
About Features for Teachers
What are Studygroups?
Studygroups help you organise and teach groups of students with full Kwiziq A.I. support -
learn more
.
Do I have to be a teacher to moderate a Studygroup?
You can create a Studygroup with friends, family, conversation clubs - any group of people you want to study and grow with.
About My Account
How can I get more free credits?
Just wait until next month -
learn more
.
How do I change / cancel my Premium package?
You can change the length of your Premium package or cancel auto-renewal in
your account
.
What are the benefits to upgrading?
A Premium subscription allows you to take unlimited kwizzes, which means unlimited potential to improve your Spanish! Additional benefits include
See
Premium features
or our
upgrade page
for more info.
Also, take a look at the results of our survey of active French users:
Is it really free?
We offer a free package with 10 kwizzes per month. This is ideal for casual learners and will always be totally free. If you want to get more serious about your studies, you can
upgrade to a Premium subscription
.
How do Premium subscriptions work?
Kwiziq Spanish Premium comes in four package lengths:
Monthly
Quarterly
Annual
Biennial
The total amount on the
pricing page
is paid in
one lump sum
for the package term; Amount / Month shows you how the price works out to per month, decreasing dramatically as you subscribe to longer terms.
Kwiziq Spanish Premium is a subscription, meaning that if you subscribe for one, three, or 12 months, your subscription will automatically renew at the end of that period. (Biennial packages are one-off purchases.) You can disable automatic renewal in your account at any time: Change your package.
This will not affect your current subscription; it will simply prevent it from renewing when it expires at the end of the term.
How can I log in with Facebook or Google?
You just need to connect your accounts.
If you ever want to unlink them, here's how.
Why have my grammar emails from Kwizbot stopped?
Kwizbot automatically adjusts the frequency of your grammar lesson reminder emails based on how much you test:
If you test at least once every day, then he doesn't send you emails because he knows that you are looking at your grammar lessons online and have the concepts fresh in your mind.
If you go 24 hours without testing, he will send you your first reminder lesson selected from your recommended studylist. He will do this daily for a week to remind you of the different lessons in your list.
If you don't test for more than a week, he will slow the frequency to once per week, assuming that you don't have time for more study.
If you don't test for more than a month, he'll slow again to once per month.
The frequency resets whenever you test again since he knows you're back to working on your language skills.
How do I change my email address?
You can change your email address by going into your account details page (log in and click your name at the top right). If you can't do this for some reason, you can
email us
from the original email that you registered with (we have to be sure it's the same person requesting) and we'll be happy to update it for you.
Is my subscription for both languages?
No, Premium subscriptions apply only to a single language, so if you want to study both French and Spanish, you will need a Premium subscription for each one. However, we offer a Polyglot discount of 25% on the second language: after you upgrade to Premium for either one, you'll see this discount automatically applied when you go to the payment page for the second language.
How do I change my password?
Please use the
password reset function
. Just make sure that your new password has at least 8 characters, including at least one UPPERCASE letter.
How can I delete my account?
If you want to delete your account completely, including all of your progress, please
email us
.
Can two people share an account?
No, Kwiziq Spanish accounts cannot be shared. This is an individual learning system that uses A.I. to pinpoint your errors and gaps in order to create your personalised Studyplan so that you're always working on exactly what you need the most help with. If you were to share an account, person A might know an answer while person B doesn't, and thus person B wouldn't be tested on that concept.
It's the same as when you get your eyes checked and the ophthalmologist tests each of your eyes separately. This is because one eye is often stronger and compensates for the other's weaknesses. In order to get just the right prescription, the doctor needs to determine exactly the type and strength of correction each eye needs.
That said, you can work together with family and friends by creating a Studygroup.
How can I switch between light mode and dark mode?
We're thrilled about this new feature - you can now access our dark mode from your desktop, tablet and smartphone! Check it out:

Website with light and dark modes
Whether you prefer using the dark mode to practise your Spanish late at night, need it to avoid migraines or you just like it better than light mode, now you can have it!
How to activate Dark Mode in Kwiziq Spanish
When logged in:
1. Click on your photo

2. Look for the "Dark Mode" option in the drop-down menu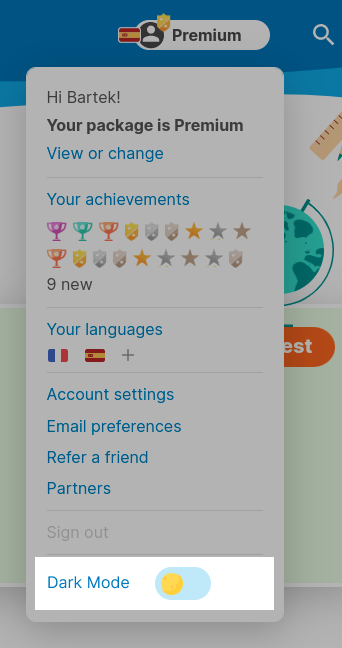 3. Click on the Toggle switch to switch between Dark and Light modes
When logged out:
1. Look for the Toggle Switch at the top of the page

2. Click on it to switch between Dark and Light modes
About Spanish
What about Dictations and Writing Challenges?
You will still hear a Castilian accent for dictations, but we are introducing Latin American accents in the future. In new Writing Challenges there are vocabulary and conjugation differences depending on which type of Spanish you choose to focus on.
Please note, if you leave an exercise unfinished and then switch between European and Latin American Spanish you cannot finish that same "take" after switching. To finish an exercise, you have to be in the same regional focus that you started the exercise in. Otherwise, you can start a new take in your current focus.
How do I switch between European Spanish and Latin American Spanish?
Use this link:
Change your Spanish focus
. You can also access this page by clicking the icon with your photo or avatar at the top of this page, choose
Your Account,
scroll down to
Choose Language Region
. Then choose
Latin America
or
Spain
, as required.
How can I tell which type of Spanish I am learning now?
At the top of the page is your photo or avatar and a little flag. If it's the Spanish flag then you are learning European Spanish, if it's the Mexican flag, then you are learning Latin American Spanish.
If I'm learning Latin American Spanish will I never see vosotros again?
Nice try! Just like English speakers watching The Crown or Stranger Things aren't fazed by the differences between UK and US English, Spanish speakers are used to hearing the differences between the regional variations even if they don't use them. That's right, they love watching Casa de Papel in European Spanish and also La Casa de las Flores in Mexican Spanish.
No matter which type of Spanish you have chosen to learn, most learning items are shared and apply equally to both regional variations. For this reason, if you have chosen Latin American Spanish you will still see vosotros (for instance in verb tables, lesson examples, in exercises like audio and video bilingual readers) but you will no longer be tested on vosotros in any questions, kwizzes, gapfills or writing challenges.
What happens to my score and my brainmap?
When you switch to a different regional focus, your score will change because you will have access to different lessons depending on the region. You can see this in your brainmap: topics that you have not covered yet will be white on your brainmap even if you had partially covered a similar topic in the other regional focus. This will happen every time you switch, so we encourage you not to "flip-flop" between variations if keeping your score is important to you.
What about my position on the Leaderboard?
No changes here, your position is calculated based on how many questions you answer, so whether you are studying European or Latin American Spanish doesn't change this calculation.
Will I lose access to European Spanish if I switch to Latin American Spanish?
The vast majority of our lessons are common to all Spanish learners. You can still access all lessons, including those which focus on European Spanish, but because you have chosen to study Latin American Spanish, Kwizbot won't offer any specifically European Spanish lessons in your studyplan and they won't display as topics to study in your brainmap.
What happens to my notebooks?
All the lessons you have saved to your notebooks are still available and you can still access them to review them. However, you can only test against lessons that correspond to your current regional focus. All lessons that do not match are indicated by a flag.
For example, if you have chosen to study Latin American Spanish and you have 3 lessons in a notebook, one of which is for European Spanish only, you will see the Spanish flag next to it. When you test against that notebook you will not get any questions from the European Spanish lesson, only from the 2 other lessons. If you have a notebook where all 3 lessons are for European Spanish only then you will see a Spanish flag next to all of them. You can still review those lessons but there is no Test button for that notebook.
What if I want to study both European and Latin American Spanish?
There's no way at the moment to study both Latin American and European Spanish, but we are looking at this! Please don't try constantly switching between the two - this will cause havoc with your scoring and studyplan. If you really want to study both before we can offer this to you through the system, then the best thing is to choose one and stick with it until you reach a level you are comfortable with and then switch to the other and continue your language progress from there.
What if I don't want to study Latin American Spanish at all?
If you were already studying Spanish with us before 24 May 2021 then you don't have to do anything! You started studying with us when we only offered European Spanish and you don't need to take any action at all.
If you are a new student, when you sign up you will be asked which type of Spanish you want to focus on before you take the sorter test.
Other Questions
Spanish questions
If you have a Spanish language question, please post it in the
Q&A forum
. Whenever possible, please use the "Q&A Forum" section under the relevant lesson so that other users can benefit from the information. By posting in the Q&A forum you agree to abide by the
community guidelines
. Specific FAQs about the forum can be found here:
Q&A Forum FAQs
How to take a screenshot
If you have a support query you may be asked to send us a screenshot to help us identify the problem. Below is a list of help guides (provided by third parties) to explain the process, depending on your operating system.
After you save the image to your computer, please reply to the support request using your email client as usual and attach the saved screenshot just as you would any other file. Please make sure the url (web address) is visible on the screen shot or included in the response.
How to take a screenshot on ...
Technical questions
If you have trouble logging in or any other technical difficulties, please use our
contact form
and we will respond as soon as possible.
Pricing
Will I be tied into a plan?
Kwiziq Spanish works on a subscription basis so you choose what suits you best - monthly, three monthly, yearly or every two years. Apart from the biennial one, subscriptions automatically renew at the end of the package. You can cancel the renewal at any time during that period and still have full access until its expiry. Cancel via your dashboard, or for Paypal subscriptions, via your own Paypal account, if you decide not to continue.
With the yearly and biennial options, you pay up front as a lump sum - the longer the period, the greater the discount.
What happens if I purchase a new plan with time still remaining on the current one?
When you purchase a new subscription, your current subscription is not extended.
Instead, it is automatically cancelled and you will receive a pro-rated refund for the time that is remaining. This will be returned to your original payment method within 7-10 days.
So for example if your current subscription has one month left and you purchase a one-year subscription, you'll receive a pro-rated refund for that remaining month. Your new subscription will begin today and expire one year from today.
Do I get a discount if I learn French and Spanish?
Premium subscriptions only apply to a single language so if you want to study both French and Spanish, you'll need a Premium subscription for each one. We do, however, offer a Polyglot discount of 25% on the second language. After you upgrade to Premium for either language, you'll see this discount automatically applied when you go to the payment page for the second one.
What if I change my mind? How do I cancel?
In the unlikely event that you decide that Kwiziq is not for you, just contact us within the first week and say that you wish to cancel. We offer a no-quibble, 7-day, money-back guarantee.